Welcome to Year R!
Butterfly Class
Teacher: Miss Convey
Social Story
Each year, we create a Social Story for our individual year groups. The aim of the Social Story is to help children become accustomed to their change in environment as they progress upwards through the school. It outlines how their classroom will look, who their teachers are, and how the school day may look. Our Year R social story can be found here:
Latest News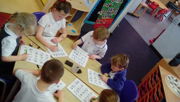 Butterflies have been trying so hard to build up the strength in their fingers by taking part in 'Busy Finger' activities every afternoon. We have been busy taking part in 'Dough Disco' practising our scissors skills as well as our hand writing!