Welcome to Year 2!
Jaguar Class
Teachers: Mrs Caselton & Mrs Champness
Social Story
Each year, we create a Social Story for our individual year groups. The aim of the Social Story is to help children become accustomed to their change in environment as they progress upwards through the school. It outlines how their classroom will look, who their teachers are, and how the school day may look. Our Year 2 social story can be found here:
Latest News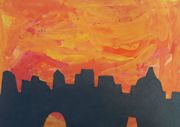 Year 2 have been learning about the Great Fire of London this week, we've heard lots of singing and they've done some amazing art work too!