Welcome to Year 3!
Cheetah Class
Teacher: Mrs Lucas
Social Story
Each year, we create a Social Story for our individual year groups. The aim of the Social Story is to help children become accustomed to their change in environment as they progress upwards through the school. It outlines how their classroom will look, who their teachers are, and how the school day may look. Our Year 3 social story can be found here:
Latest News
Stone Age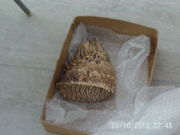 Cheetah Class had a Stone Age Day. They invited a representative in from the Guildhall Museum in Maidstone to talk to them about life in the Stone Age and show them fossils and tools that would have been used during that period in time.
Our Head Children, Chloe, Emily, Freddie and Thomas interviewed the children after their visit and obtained the following feedback:
"My favourite thing was the mammoth's tooth." – Ollie
"I liked everything and he took his time to explain things to make sure that we understood. It was very interesting, we saw tools with handles and sculptures too." – Meltam
"My favourite was the mammoth tooth and it came from the Stone Age and he bought in something from the Bronze Age too." – Emilia
Star in the Jar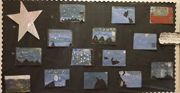 Year 3 have been very creative this week making their own artwork based around the book they have been reading in class 'Star in the Jar' - we've got some budding artists in Cheetah class.
Stone Age Houses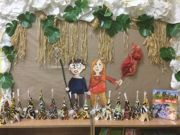 Cheetah class (Year 3) continued their topic of the Stone Age last week and made Stone Age houses - what a fantastic display of work! Well done Cheetahs!